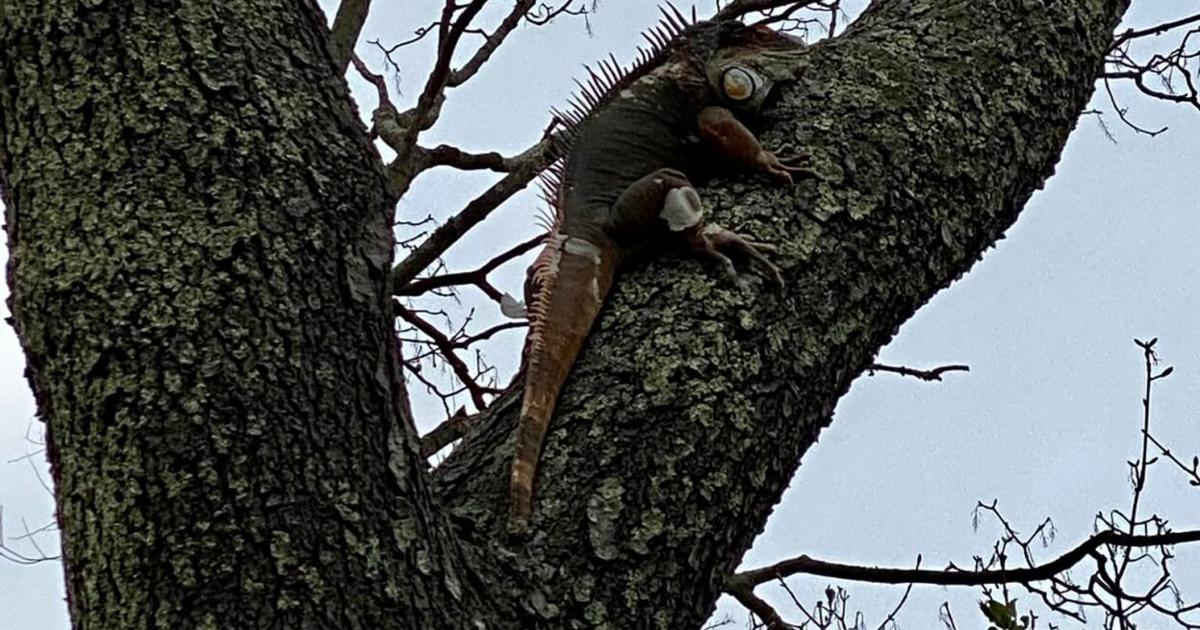 Reptile Rescue: Tree Felling Experts Help Recover 4-Foot Iguana in Pawcatuck | Daily news alerts
STONINGTON — As temperatures soared into the mid-60s on Saturday, a 4-foot-long pet iguana named Iggy escaped his home in favor of a springtime adventure, leaving his pen behind and wandering around the neighborhood before climbing a tree in front of a house on Downer Street in Pawcatuck.
The playful behavior quickly turned dangerous for the 20-year-old male green iguana on Saturday night when temperatures dropped into the 30s and rendered the cold-blooded reptile immobile. There, Iggy sat through the night, hovering 35 feet above the ground waiting for help to arrive.
Luckily for Iggy, two animal lovers and tree care experts were able to ensure there was a happy reunion for the tropical lizard and his family on Sunday morning.
"Iggy is feeling better and getting on my lap after being rescued by Peter Rodgers and Jake Manfredi," owner Sherri "Finn" Moran said in a post on the Stonington Community Forum Facebook page Sunday afternoon.
Manfredi, a Westerly resident and owner of Treemendous Tree Service, and Rodgers, owner of The Equipment Doc LLC and working part-time as a contractor on tree-cutting projects, were able to get Iggy off the unharmed tree. The thank you messages shared on Sunday indicated that by evening he was already back to his normal, loving reptilian self.
It was by no means a typical rescue, Manfredi said, but the rescue went quickly and gave both men a chance to do something good and be a helpful member of the community.
"I was just happy to be able to help out," said Manfredi, who has many dogs, horses and other pets and grew up on the family farm in Dunn's Corners. "I've done a lot of animal rescues over the years, and this was an easy way to make someone happy and save an animal that was out of their element."
Iggy's harrowing story began on Saturday when he escaped his enclosure and made his way to a tree on a nearby property. Although Iggy was located before dark, an animal control officer and the Pawcatuck fire department were notified but had neither the training nor the resources to remove the iguana from the area. 'tree.
The story was posted on the Stonington community forum and was quickly shared by many residents concerned about Iggy. An expert climber originally offered, but Manfredi got a call from a friend on Sunday morning when Iggy's initial rescue plan fell through.
Manfredi stopped at Agway in Westerly, where he met Rodgers, and the two decided to go see what they could do to help.
The iguana was on top of a concrete slate and a fall would likely have resulted in serious injury or death, Manfredi said, so he tried unsuccessfully to access the iguana with a bucket before Rodgers n springs into action, using a rope to get to the motionless iguana. Shortly after, Rodgers said he was sending the 20-pound animal back in a rope basket.
"Iggy was awesome. He didn't bite, claw or scratch, and he was easy to pick him up and bring back," Rodgers recalled. "I was able to bring a rope bag and lower it to Jake. Everything went great."
Manfredi and Rodgers said they arrived Sunday evening and were happy to hear that Iggy was healthy and back to normal. Although the two said they hoped a similar rescue wouldn't be needed anytime soon, they wouldn't hesitate to respond if asked again in the future.
"We're pet owners and pet lovers too, and we understand what it's like to have a pet in distress," Rodgers said. "Although I don't know Iggy or his family, it was the right thing to do."