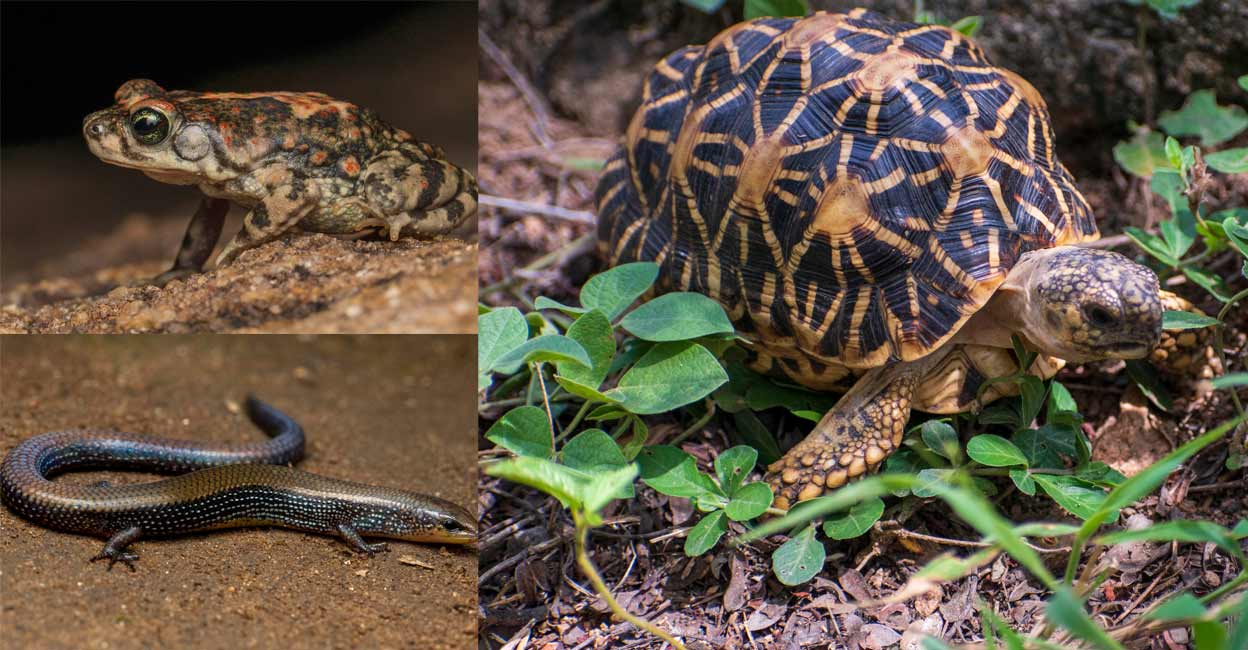 Survey Records 74 Varieties of Reptiles in Protected Forest Areas of Munnar | Lifestyle News
The first stage of the reptile survey in Munnar Wildlife Division, which includes six protected forest regions, has been completed. Although separate surveys have been carried out in each sector, this is the first time that a reptile survey has been carried out in the national parks of Iravikulam, Pambadum Sholai, Anamudi Sholai and Mathikettan Shola and in Chinnar and Kurinjimala wildlife sanctuaries which are part of the Munnar wilderness. division of life.
About 15 educational institutes including Kerala Forest Research Institute and Forestry College, and many GOOs like Malabar Nature History Society Soochimugham, MTI and NGI participated in the survey, jointly conducted by the Kerala Wild Life Department and the Aranyakam Nature Foundation from July 20 to 24. , around 95 volunteers also took part in the survey.
The survey was led by Wildlife Warden of Munnar Vinod SV Wildlife Division, Chairman of Aryanakam Nature Foundation and former Head of Kerala Forest Research Institute, Dr PS Esa, the researchers Sandeep Das, Rajkumar KP, Iravikulam Wild Life Warden Job Neriaparambil, Shola Assistant Wild Life Warden Arun K Nair, Chinnar Assistant Wild Life Warden Nithinlal, Wild Life Assistant Ajeeesh AS, Nithin Diwakar, Abdul Riyas and Dhruvraj.
The protected forest area which stretches over 230 square kilometers has been divided into 28 camps in order to carry out the investigation. Forestry officials, researchers, students and nature enthusiasts worked hard day and night to record around 60 species of amphibians and 74 varieties of reptiles in the scientifically conducted survey. Volunteers and forest agents carried out the survey from 8 am to 12 pm and from 6 pm to midnight.
A variety of caecilians, two shield types and a species of ground gecko that have been found in Iravikulam National Park are considered new to the scientific world. Researcher Sandeep Das said more studies need to be done to find out more details. Also, 4 types of amphibians and 6 types of reptiles that were not found in previous surveys were recently discovered in the area.
About 45 varieties of endemic frogs including Kadalar Swamp Frog, Toad Skinned Leaping Frog, Munnar Torrent Frog, Cold Stream Torrent Frog were found in the survey. In addition, about 20 varieties of frogs, including Resplendent Shrub Frog, Sushil Frog, Anamala Hovering Frog, Griet Bush Frog, which have been included in the IUCN Red List of Frog Species in critically endangered, have also been recorded. Gunther's Toad which has only been spotted three times in two different locations in Kerala has been found in Chinnar Wildlife Area.
The resplendent shrub frog, even though it is on the critically endangered species list, has been spotted in abundance in Iravikulam National Park. This species has been recorded as the second most populous in the Iravikulam grasslands. Kodaikanal Bush Frog was commonly found everywhere except for a few camps in the lower areas of Chinnar. Interestingly, the Kodaikanal bush frog, which is seen mainly in the higher areas of Kodaikanal, Munnar, Periyar Tiger Reserve and Meghamala Wildlife Park, is a unique form.
Of the 75 reptiles that were recorded in the survey, 29 species are found only in the Western Ghats. In addition, about nine species are included in the endangered and near threatened categories of the IUCN Red List. Star Tortoise, Mugger Crocodile and Pied-Bellied Shieldtail are included in the Vulnerable category and Rurk's Cat Skink, Bengal Monitor Lizard, Indian Rock Python, Common Sand Boa, Gunther's Vine Snake are included in the Near Threatened category.
Star Tortoise, Red – Spotted Shieldtail, Large – Scaled Forest Lizard and Yellow – Green Cat Snake were spotted. Also, the Three Lined Shield which has only been recorded three times, the Anamala Wood Snake which has been found in Iravikulam National Park and three species of geckos which have been recorded in 2021 at Mathikettan Chola were also found in the survey. The Indian garden lizard, Anamala spiny lizard, common keeled skink, Gunther's vine snake and great scaled viper were spotted at a dozen camps. Additionally, the South Indian Rock Agama which is commonly seen in Chinnar and Anamala Spiny Lizard which is found in the higher areas of Munnar were also recorded in this survey. Of the snake species, Gunther's vine snake and broad-scaled viper have been mostly spotted.