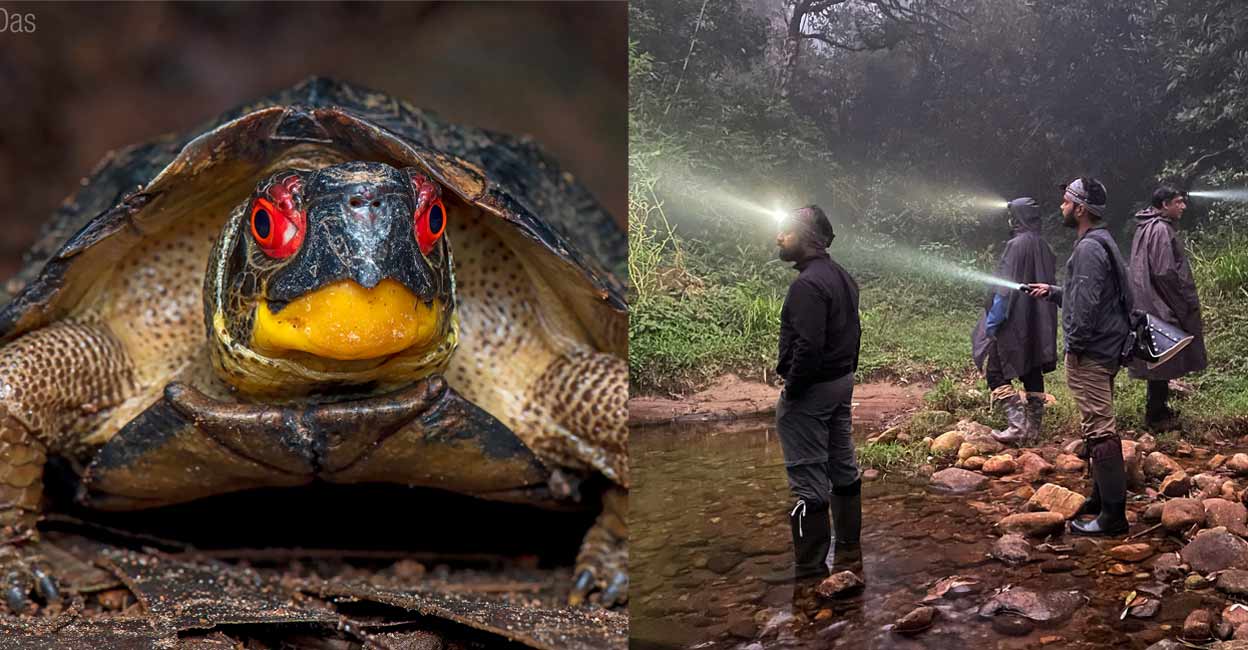 Reptile survey in Thiruvananthapuram records many rare and endangered species | Lifestyle News
The first stage of the reptile and amphibian population survey in Trivandrum Wildlife Division Protected Area, which includes Neyyar, Peppara Wildlife Sanctuaries and Agastyavanam Biological Park, has been completed. Although separate surveys have been conducted previously in each area, this is the first time a joint survey has been conducted in the region by researchers, students and wildlife enthusiasts.
In the survey, conducted by the Kerala Forest Department in association with Aranyakam Nature Foundation, from September 22-25, students and researchers from about 15 educational institutions and research centers, more than 75 volunteers from NGOs like Malabar Nature History Society and Travancore Natural History Society and forestry officials had also participated.
St. Joseph's College, Irinjalakkuda, Kerala Forest Research Institute, University of Calicut, University of Kerala, Kerala Veterinary and Animal Sciences University, College of Forestry and Farook College are some of the educational institutions that participated in the survey.
The survey was led by Suresh Babu IS, Trivandrum Wildlife Division Wildlife Warden and researchers Dr Sandeep Das, Dr Rajkumar KP, Nithin Diwakar, Neyyar Deputy Wildlife Warden Brijesh Vatsan, Peppara Deputy Wildlife Warden Wildlife Salin Jose, Agastyavanam Assistant Wildlife Warden Aneesh Kumar and Aranyakam Manager Trustee Dhruvaraj S.
The protected forest area which covers more than 212 square kilometers has been divided into 17 camps, in order to carry out the investigation. Forestry officials, researchers, students and nature enthusiasts worked day and night to record around 67 species of amphibians and more than 80 varieties of reptiles in the scientifically conducted survey. Volunteers and forest officers carried out the survey in two shifts, from 8:00 a.m. to 12:00 p.m. and from 6:00 p.m. to midnight.
Orange lipped lizard which was found in Peppara Wildlife Sanctuary is a rare type of reptile found in Western Ghats. Dr Sandeep Das said this is only the fifth time this species, which has only been found in the Agastyamala region, has been recorded. The survey team was of the opinion that more studies should be done on one type of Caecilian and three types of Shieldtail snakes. This survey found 3 varieties of amphibians and about 10 types of reptiles from protected areas, which were not recorded in previous surveys. Wildlife warden Suresh Babu IS during the closing ceremony said that not only wild elephants and tigers but also amphibians and reptiles are part of the ecology and such surveys are a point of reference. departure in an effort to protect them.
Among the 67 varieties of amphibians, about 55 species including the spotted jumping frog, Beddome's toad, Kallar Torrent frog and Kani Bussh frog are endemic to the Western Ghats. Meanwhile, about 16 varieties included in the Critically Endangered and Endangered and Vulnerable categories of the Red List published by IUCN have also been registered in the survey. The Chalazodes Bubble Nest frog and the large Ponmudi bush frog which belong to the list of critically endangered species have been spotted. Dr Sandeep Das said Neyyar Peppara Wildlife Sanctuary is home to some of the unique varieties of amphibians.
Of the 80 varieties of reptiles, 42 exist only in the Western Ghats. About 8 varieties of reptiles have been added to the IUCN Red List of Vulnerable, Endangered and Near Threatened categories. The Cochin Cane tortoise and the Indian kangaroo lizard are included in the Endangered category while the Mugger crocodile and the Travancore tortoise are in the Vulnerable category.
Meanwhile, Dr Rajkumar said that spotting Travancore cat snake which is quite rare among cat snake species, Kaleed vine snake which is only found in Agastyamala region and the Pit Travancore Viper in the survey indicated the importance of the Agastyamala region as a major habitat for unique varieties of reptiles.