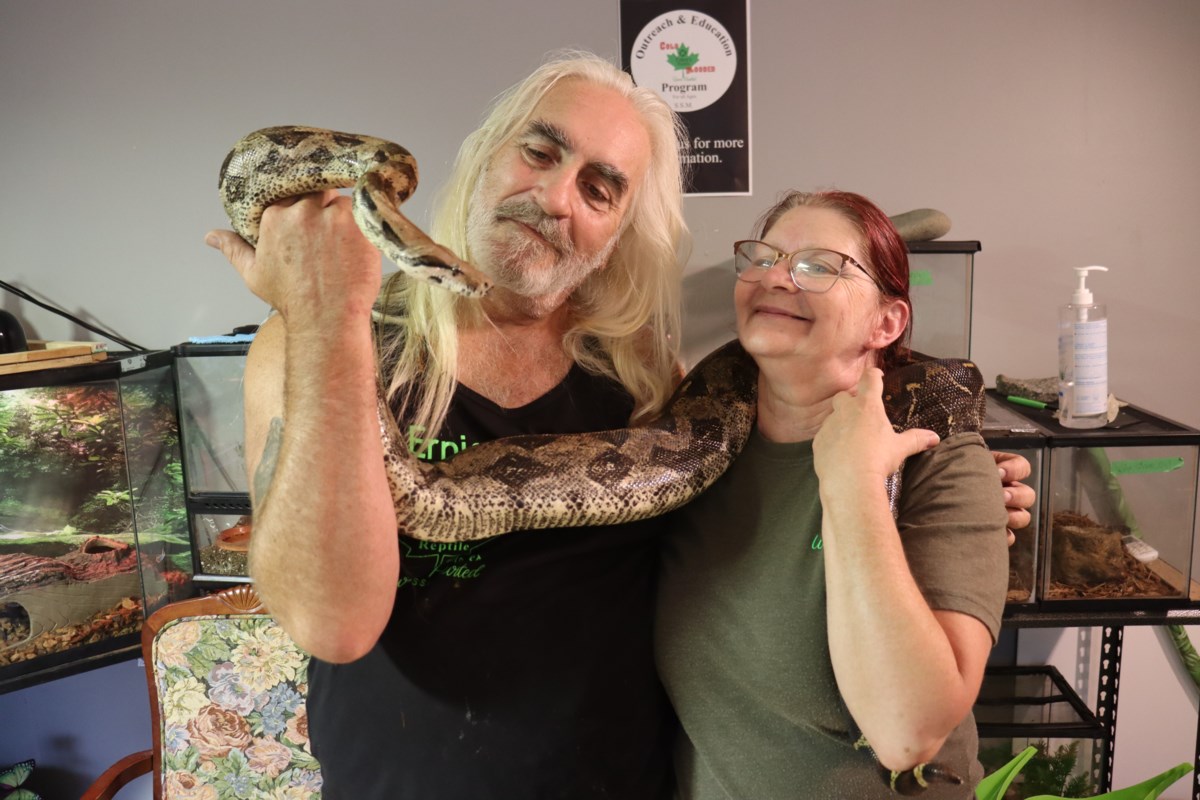 Reptile rescue aims to reduce stigma through education (10 photos)
"Reptiles aren't as demanding as other pets," says Ernie Rowntree, co-founder of Eden's Reptile.
Cold blood, warm heart.
It's the motto of Eden's Reptiles co-founders, Ernie and Ruth Rowntree, who live it every day.
The couple have run a reptile shop and rescued out of their home on Westridge Road for two years, providing a safe and loving sanctuary for a wide assortment of animals and reptiles.
From snakes, lizards and turtles to frogs, bearded dragons and geckos, many of the animals they house are rescues – some in better condition than others.
Although not an officially recognized rescue, Eden's Reptiles works tirelessly to ensure that the animals' physical and emotional needs are considered before offering them up for adoption.
"We welcome them because they have nowhere to go", explains Ernie Rowntree.
Prior to founding Eden's Reptiles, Rowntree worked as an animal laboratory technician at York University for 12 years. Before that, he volunteered at an endangered sanctuary in Toronto where he had his first experience with reptiles.
He and his wife Ruth monitor the animals' eating, shedding and droppings habits to make sure they all stay healthy. But it's not just their basic needs that are taken care of.
"We believe in daily contact," says Ruth Rowntree. "Every animal, every day, receives some form of contact."
Malnourished, abandoned and sometimes abused, many animals are brought to the couple from a wide range of backgrounds and situations – some of them more upsetting than others.
Once trained and healthy, most rescuers are eligible for adoption into good homes. Depending on their circumstances, others will remain in the permanent custody of the Rowntrees.
The couple recently launched an outreach and education program so residents of all ages can visit their home to interact with the reptiles and learn more about them.
"It's very important that people can hold and experience animals," he says. "We are not a zoo, you don't just watch them – you can come and play with them."
Through their teachings, Ernie and Ruth aim to shatter some common misconceptions about reptiles that some visitors may have had before entering their establishment.
"We have a lot of people coming in for fear of snakes," he says. "In our time here, all but one came out touching a snake. If we get an adult touching a snake for the first time, that makes our day.
The Rowntrees expressed disappointment with the city's current regulations that do not allow residents to own certain reptiles like boas and constrictors.
With proper training, supervision and care, the couple remains adamant these animals deserve a place in Sault, especially since other northern Ontario municipalities already allow it.
"Our regulations don't reflect what they allow our pet stores here in Sault to carry and sell," he says. "To expand education, we need to update our regulations."
"Residents of Sault Ste. Marie deserves to have this experience and to have a place to eat," adds Ruth Rowntree.
Ruth identifies herself as the town's "insect lady", as she takes care of the maintenance of their crickets, worms, beetles and other insects so that the little reptiles are properly fed.
The rodents they have on hand, such as mice and rats, are euthanized, frozen, and then fed to larger reptiles.
"It's very important that they have healthy food," he says.
Since establishing Eden's Reptiles two years ago, the Rowntrees have been deeply grateful for the community support they have received, and they look forward to continuing their operations for reptile enthusiasts in the area.
"The community is amazing and the awareness we're getting is amazing," she says. "The money we collect goes directly to animal care. Every little bit counts."
"We are just a few people who love reptiles, and we want everyone to do the same," adds Ernie Rowntree. "We just want to spread the love."
To book a private, family or group visit, residents can email [email protected] or call 705-450-2788. There is no charge for visits, but donations are accepted.
A take-out and delivery menu is also available on their Facebook page for local reptile owners looking to purchase insects, rodents, and other food for their pets.