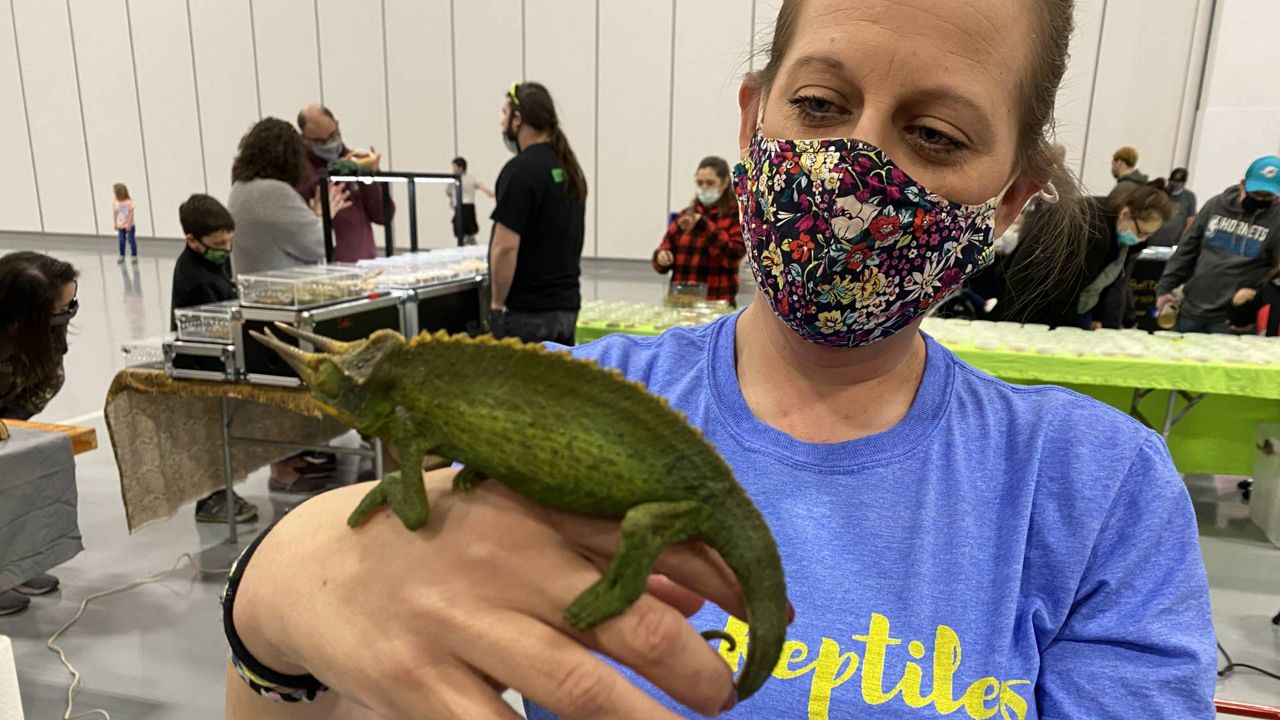 Reptile Expo returns to Lexington
LEXINGTON, Ky. — Reptile enthusiasts rejoiced last weekend when the Kentucky Reptile Expo returned to the Central Bank Center in Lexington.
---
What do you want to know
The event returns after a one-year hiatus
Reptiles, their food and other supplies presented
Snakes and lizards are more common reptiles to own as pets
Strict diets and special habitats make the Expo an important event for reptile owners
---
The Kentucky Reptile Expo, which has been on hiatus for a year due to COVID-19, takes place every two months in Lexington and features captive-bred reptiles and supplies. The Expo is also for people looking for amphibians, spiders, insects, and more, plus the chance to learn about owning and caring for reptiles by talking to experts.
People were there for many different reasons: Some are currently reptile owners who need supplies or food for their pets, such as bugs and mice. Others were former reptile owners looking for their new pet, and some were scouring the dozens of tables for their first snake, lizard, salamander or other addition to their family.
Rodney and Mandy Adams of County Oldham are the current reptile owners. This fact was obvious if the three iguanas, complete with leashes and harnesses, clinging to his jacket were any indication.
"It's Agave," Mandy said of the year-old iguana on her left shoulder. "He's just a baby – all three of us are babies."
Rodney said the iguanas in the family are frequent travel partners.
"They go with us everywhere," he said. "We took them to Gatlinburg and everything." with Mandy adding, "They love to ride."
David Frost, the owner of Crossbones Critters and Craft in Winchester, manned his stand of hand-carved tikis and other supplies, along with his rare Albino Tangerine Honduran Milksnake.
"He carries all kinds of recessive genes," Frost said as the snake snaked through his fingers. "Normally they don't look like that in the wild and a lot of people confuse it with a corn snake. It's not."
Special environments and strict diets are important parts of reptile ownership. Like any pet, reptiles depend on their owners for food. With a pandemic shutting down the Expo for a year, a place where many reptile owners bought the insects their pets ate, there was no shortage of vendors selling their food.
Dean Marlow of Vandalia, Ohio sells bug feeders called Dubias, which are cockroaches eaten by many types of lizards. At the Expo, Marlow was explaining to a potential buyer how to breed Dubias.
"I will build a habitat for these so they can breed and I will always have them," the Expo visitor said. "It shouldn't be such a big project."
The Kentucky Reptile Exhibit returns to Lexington on June 12, August 7, October 2 and December 4.