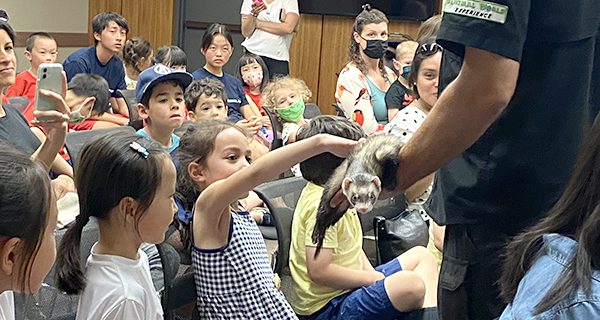 Needham's library goes wild for Animal Experience
By Lauren Schiavone
Weekly Hometown Staff
Needham Public Library turned into a woodland habitat for a day as visitors welcomed Matt Gabriel and some special guest animals.
Gabriel has always had a love for animals, previously working various animal-centric odd jobs, such as pet store and aquarium attendant, dog walker and groomer, before starting Animal World Experience, his one-time business. full, in 2006. Gabriel has devoted his entire life to taking care of animals and teaching them to others; his own property is home to over twenty fruit trees to provide fresh food for the creatures in his care.
The packed audience was first introduced to Ruby, a red-footed turtle. Ruby was able to wave her arms to the crowd and say hello. Gabriel gave insightful explanations of each animal he showed, educating the audience about their function in nature, sharing fun facts and answering questions.
The second animal, a domestic ferret named Spaz, was lithe and hairy; Spaz didn't have stage fright and even played hide and seek with Gabriel using a box in the center of the room, knocking his head in and out.
Gabriel also handled more dangerous animals – those that are poisonous – and explained how they protect themselves in the wild. The crowd was introduced to a cane toad, Sugar, whose glands on its shoulders secrete toxins that can be harmful if they get in a human's eyes or on their hands.
Pistachio, a poisonous flat scorpion, shone after the lights went out and Gabriel shone a UV light in his cage. He assured everyone that these animals are not inherently dangerous, but that we need to take care of them in a specific way.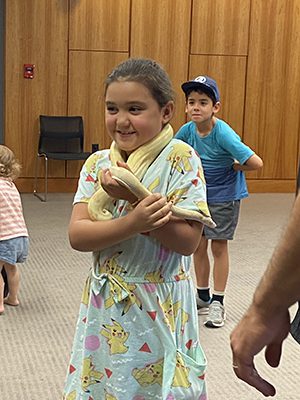 Among other amazing animals, the crowd met Drago, a tegu lizard so smart he recognized his own name. Mr. Prickle Pants, an African pygmy hedgehog, was shy but adorable and even let a volunteer pet him. Pikachu, a two-year-old albino boa constrictor, was the final guest. Gabriel said that Pikachu eats frozen mice, or "cicle mice", and couldn't survive in the wild due to the lack of camouflage.
Gabriel's mastery of the animal world, combined with child-centric humor, made for a great evening at Needham Public Library.
More information on upcoming events can be found at www.needhamlibrary.org