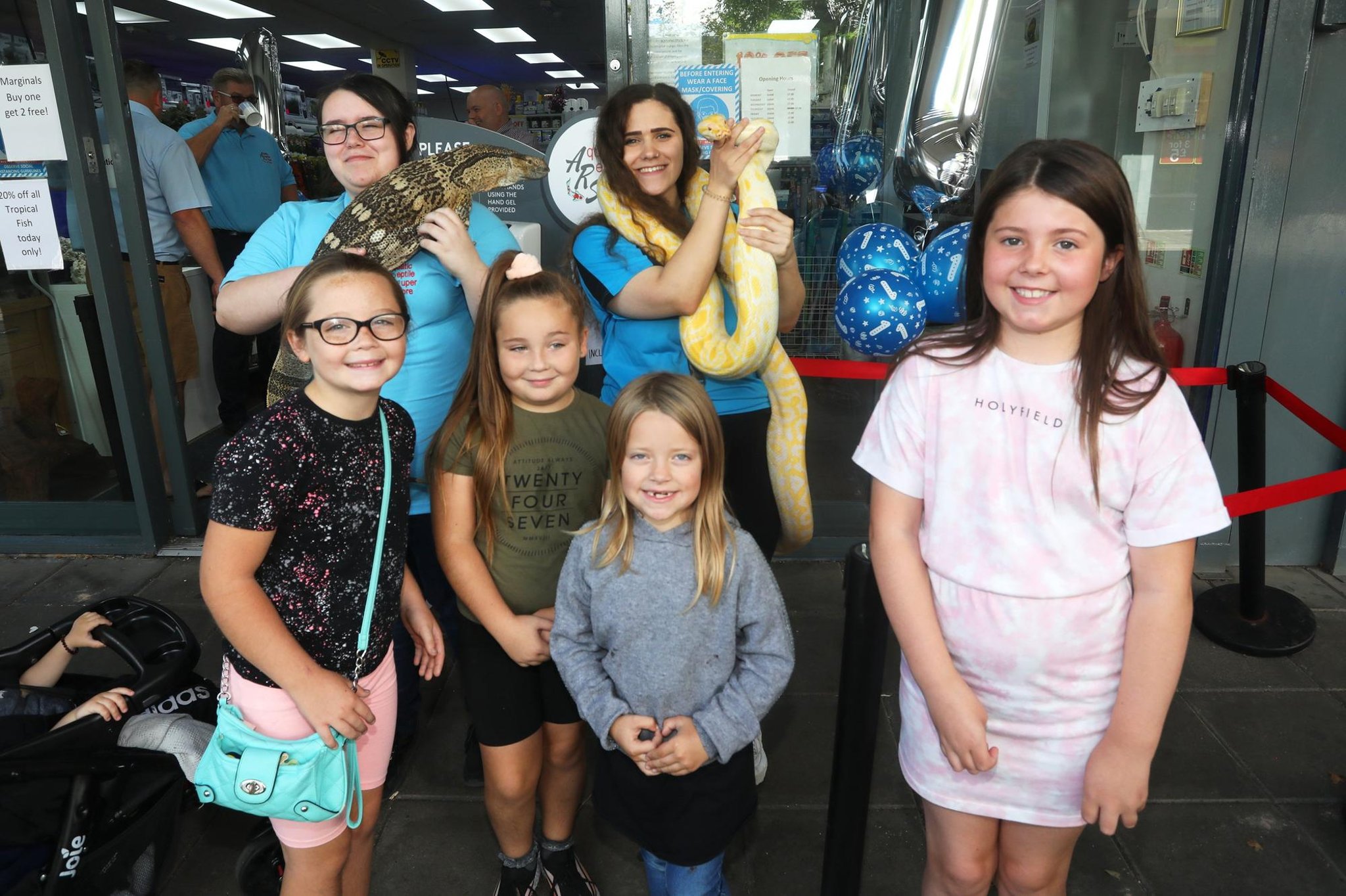 Leigh Park reptile hypermarket celebrates first anniversary as excited kids come face to face with snakes, lizards and a turtle
The Aquatic Reptile Superstore in Greywell Road, Leigh Park, celebrated its first anniversary with live animal petting and in-store fun.
Stephen Day, the store manager, estimates that hundreds of people came to the store for the party on Saturday, September 18.
Read more
Read more
The Portsmouth Clean Air Zone will start on November 29
The Aquatic Reptile Superstore in Greywell Road, Leigh Park, celebrates its first anniversary. Photo: Sam Stephenson
The Southsea resident said: "We had animals that people could hold.
"It was good to be able to do something in return for the community.
"We had very positive feedback, everyone was happy and really appreciated. Really well received. '
Balloons adorned the interior of the store as visitors were greeted to encounter the array of reptiles and aquatic animals.
Amy, 10, and Libby, 13, hang out with Winston. Photo: Sam Stephenson
The mother of seven, Wendy New, attended the event with her children.
She said: "Libby and Amy enjoyed seeing all the reptiles that day.
"Amy's favorite part was being able to touch the big turtle and Libby's was when we bought four more stick insects from the aquarium, as we already bought one a few months ago, they named it Betty. , who has now laid eggs.
"Plus my two other daughters, Rio and Elle, enjoyed the day holding the snake they had there."
Staff supervisor Carmel Landey showing off pets. Photo: Sam Stephenson
Wendy, who lives near the aquarium, runs the New's Creations store nearby.
She added: "My kids always jump in the aquarium and feed the fish for 20p, they love it."
The store offers a wide range of reptiles such as bearded dragons, leopard geckos, snakes, water dragons, chameleons, crested geckos, turtles and turtles, as well as tropical, marine and sea fish. 'Cold water.
Carmel Landey becomes comfortable with a pet. Photo: Sam Stephenson
Director Stephen joined the team in March 2020, ahead of the official opening of the Aquatic Reptile Superstore on September 16.
He added: "We are classified as essential, so we were able to open all the way.
"It hasn't been a bad year, it's been a good year, although it hasn't been amazing."
Plans for a new store in Gosport, slated to open on December 1, were also announced at the event as part of a competition.
A message from the editor, Mark Waldron
We have reduced the cost of digital subscriptions to our website by 50% for a limited time.
The aquatic reptile hypermarket. Photo: Sam Stephenson
You can now subscribe here for unlimited access to our online coverage, including Pompey, for less than 13p per day.