5 chilling tragedies of the animal kingdom, blackbirds died in Mexico to fish in Chile
As we age and advance technologically, we see the consequences of that progress in nature like never before. After seeing the phenomenon of lizards, puffins, and even blackbirds falling from the sky, humans see thousands of fish stranded, even more frequently these days.
This is not the first time that schools of dead fish have been discovered on beaches in this part of Chile… Similar incidents reported last year are explained by low oxygen levels in deeper waters , with fish swimming closer to shore in search of nutrients. pic.twitter.com/W5TBqxgPi4

— Euronews Green (@euronewsgreen) February 22, 2022
Chileans recently woke up to a strange sight, when thousands of dead sardines and anchovies washed up on a Chilean beach. This incident occurred on the shores of Coliumo, in the Biobio area, where dead marine animals were washed ashore due to currently inexplicable circumstances.
Photo: Reuters
Currently, environmental officials have started investigating the water quality in the area to figure out the real cause of the mysterious incident. A manual clean-up operation is also underway, as tractors cannot be used in these situations.
WHY DID THIS HAPPEN?
While there are no clues as to how this event happened overnight, a similar incident had taken place last year. Upon investigation, this was found to be due to low oxygen levels in deeper waters, which led to fish swimming closer to shore in search of nutrients.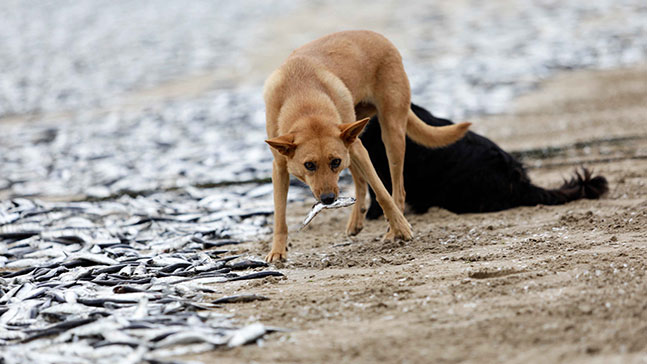 Photo: Reuters
Large-scale pollution, lack of oxygen, climate change and the spread of parasites in the Baltic Sea had deteriorated the quality of the fish. But is this the only reason that pushes them towards the shore? It's still a mystery.
MORE INCIDENTS IN THE LAST 3 MONTHS
1. BIRDS FALLING FROM THE SKY (FEBRUARY 2022)
Do you remember seeing this video of CCTV footage in Mexico where hundreds of yellow-headed blackbirds fell dead to the ground?
I prefer that the birds do not suddenly fall from the sky in this way. pic.twitter.com/oF1a8LGztj

"A fucking delight?" (@Reesha) February 18, 2022
CCTV footage from a security camera showed a flock of migrating birds curiously swooping down the street from a great height. While many initially managed to fly away, there was subsequently a mass of carcasses strewn across the road.
PREVIOUS ALLEGATIONS
#Yellow-headed #Blackbird May 15 to #Iona Beach in British Columbia. pic.twitter.com/DcDCl1PWnJ

—Richard Allan (@sparowhwk) June 10, 2015
While veterinarians have blamed the birds for inhaling toxic fumes from wood-burning appliances used in cold weather, others have blamed electrocution from nearby power lines on this unique situation. There were even speculations that the installation of 5G technology could be the cause of such a unique undesirable situation.
FINAL CONCLUSION
Recently, some environmental experts claimed that the movements of a predatory bird called Northern Harrier caused the flock of yellow and black fowl to plunge to death. As these birds usually move in groups, these incidents usually occur during the annual migration.
2. PUFFINS RAISING ON THE SCOTLAND COAST (DEC 2021)
More than 100 puffins, also known as 'sea parrots', were found dead on the northeast coast of Scotland, Shetland and Orkney in December 2021 as they continuously washed up on shore for three weeks .
Many #Puffin landed here in Shetland in recent days. It is suspected to be linked to the situation along other North Sea coasts from Orkney – Netherlands. Food shortage? Storms? Glad to say this one came out in much better condition than when we found it? pic.twitter.com/GYy0hNHCEk

— Hugh Harrop Fauna (@HughHarrop) December 15, 2021
The UK Center for Ecology and Hydrology (UKCEH), which monitors these seabird populations to record the effects of environmental change, called the event the most unusual event in 50 years, caused by a problem in the marine food chain. If the birds have died in such large numbers, it is cause for long-term concern, as puffins have a lifespan of 25 years, mate for life, and lay an average of one egg per year. This will have an immediate ripple effect for years to come.
Puffin love ♥️ #puffin pic.twitter.com/RhySlBJtmk

— Puffins Daily (@PuffinsDaily) February 22, 2022
Given that some puffins were found covered in oil spills, this was also a cause for concern as the coating of oil on their plumage can cause them to lose critical body heat. The investigation into the deaths of razorbills and guillemots has focused on two possible causes: a major failure of the marine food chain due to warmer water temperatures or toxic poisoning due to algal blooms, although it could be a combination of the two.
3. DEAD FISH FOUND OFF THE COAST OF FRANCE (FEBRUARY 2022)
Sea Shepherd is calling for a ban on super trawlers like the F/V Margiris, which dumped 100,000 dead fish into the sea. Watch the video here: https://t.co/PgLodS0bgn#OpOceanKillers @SeaShepherdFran pic.twitter.com/ppnv7PxtXF

— Sea Shepherd (@seashepherd) February 18, 2022
Imagine getting on a boat to sail through the ocean waves and wave your hands in the blustery air and feel the cold water, only to be shocked by the sight of approximately 1,00,000 dead fish floating on the ocean. water. Quite a mood killer, isn't it?
BREAKING NEWS: The super trawler responsible for a massive fish spill off the coast of France is cleared to fish in Scotland by @NicolaSturgeon @theSNP @BorisJohnson @Conservatives #SuperTrawler #Margiris #Ecocide #Climate crisis #OceanDestruction #UKGovernment #Scotland pic.twitter.com/AZrYjZlnCa

— beaver (@eveikigai) February 21, 2022
The second largest fishing vessel in the world, called FV Margiris, dumped over 1,00,000 dead fish in the Atlantic Ocean in France and if you look closely at the photo you will see a dense layer of blue whiting, lying there like a carcass layer float. This fish is a subspecies of cod used by industry to mass-produce fish sticks, fish oil and fishmeal. It is usually caught using nets that are dragged for miles through the sea and then processed on the vessel itself, a so-called 'bycatch'. But if the net is cut, the fish spills into the sea, which is exactly what happened here. There appears to be no record of cases like these occurring anywhere in the world, which is why even though it is normal practice, the ship has labeled it rare.
4. CRANES DIE OF BIRD INFLUENZA (DEC 2021)
Blue cranes calling at #Israel's Hula Valley during migration. Wonderful! ??? pic.twitter.com/NquoIli8CS

– StandWithUs (@StandWithUs) August 23, 2020
An outbreak of bird flu in Israel has killed thousands of wild cranes, an unusually high toll for seasonal flu. Called the "deadliest wildlife disaster" in the country's history, at least 5,200 of the half-million cranes that cross Israel on their way to Africa, lay dead in Israel's Hula Valley. As the carcasses themselves posed a danger to other animals in the food chain such as vultures and eagles who feasted on them, it was vital for workers to remove the carcasses as quickly as possible.
Photo: AFP
Besides the 5,200 dead cranes, another 10,000 cranes would be infected and half a million chickens in the region would have to be slaughtered to prevent the spread of the disease.
5. LEAD BULLETS KILL TOO MANY ANIMALS (FEBRUARY 2022)
Previously, both species were nearly extinct due to an insecticide, which was later banned. Hunters were also encouraged to switch to copper bullets in the United States, a decision already taken in Europe, Germany, Denmark and Sweden, countries where the same problem was rampant. During Obama's reign, Director Dan Ashe had banned the use of lead ammunition in National Wildlife Areas, but unfortunately the ban was short-lived and was reversed under the Trump administration. .
The last three months themselves have seen these horrific sightings and we're not even counting the ones that haven't been recorded yet. The impact of human consumption and climate change is clearly visible and if the same continues at the current rate, we may end up seeing these beautiful animals only in photos.
The views and opinions expressed in this article are those of the authors and do not necessarily reflect the official policy or position of DailyO.in or the India Today Group. The authors are solely responsible for any claims arising from the content of this article.